Car Maintenance
Are You going bald? Here is the Heads Up on Tyres
Tyres are one of the most important safety aspects of driving, and yet many of us are neglecting to keep a check on our tyres driving on bald tyres.  With many drivers either driving below the legal limit or some so badly worn they are almost smooth in places.
Bald tyres could cost you more than new replacements
According to research in 2016 by confused.com 10,766 UK drivers were handed fines for having bald tyres, and with the maximum bald tyre penalty costing £2,500 for each bald tyre.  So although you are driving on a tyre that looks like it should be used on a Formula one race track, if you are caught it could cost you over half as much as the real thing!
Quarter MOT's Failed last year having bald tyres
Despite it being a very easy check, many of us are either just waiting for our MOT to come around, or just to plain busy to get around to checking them.  It is easy to check the tread on your tyres take a look at MOT checks to save you money to learn how you can check your tyres.  You will also find some other money saving tips to check for before you get to the MOT Station.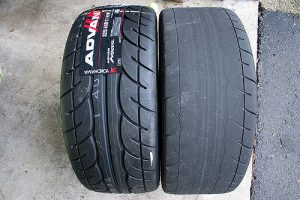 If you have just got yourself a new bad credit car lease, you will not need to worry about getting an MOT for 3 years (this may soon be extended to 4 years) and depending on the age of the car (no more than a year if you lease from CVS Ltd), it could be sometime before you need to get an MOT.  Therefore many drivers are not thinking about regular maintenance checks with tyres been the main area overlooked.
The risks can be huge
If you are not checking your tyres regularly, then try to fit it into your busy life, as mentioned if you are caught the fines are large, and you could receive up to 3 points on your licence.  Aside from the fines, your tyres are there to help your car stay safe on the road.  Defective or bald tyres could cause you to have an accident and there really is no price for your life, your families or others around you.
Drive safely.
Back to all help and advice articles