Vehicle Leasing
How Personal Car Leasing Works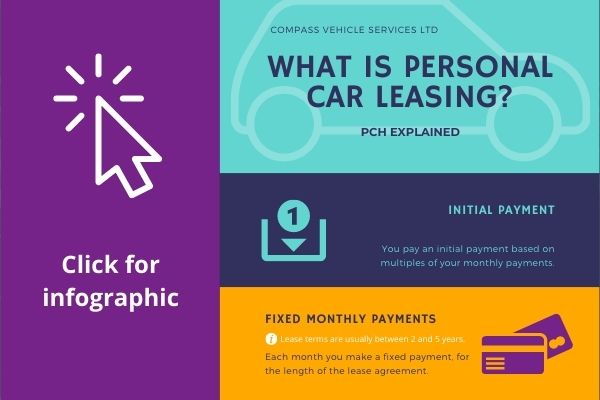 Published 24 March 2021
Personal Car Leasing Explained
Thinking of leasing a car? Then this article will tell you what you need to know to make a decision.
The Leasing Process
Personal car leasing is also known as personal contract hire or simply just referred to as PCH.

Fixed Term
PCH is an agreement you make to rent a vehicle for a set period.
Car leasing contracts typically run for two to four years though you are able to get slightly longer or shorter deals.
 It's an alternative, and often low cost way to get a brand new car.
PCH is suited to people that know they don't want to buy the car, but like driving a new car.
Initial Deposit
Personal car leasing deals typically require an initial payment (deposit).
The initial payment is based on multiples of the monthly payments, and is usually shown like this 3 + 35. This means that the first payment is three times your usual monthly payment, then you have to make 35 monthly payments; so the total length of this lease is 36 months (3 years).
Also See: Payment Profile Explained
Fixed Monthly Payments
During the lease you pay fixed monthly payments in return for the use of a vehicle.
The larger your initial payment, the lower your monthly payments will be.
Mileage Limit
Most PCH agreements come with an annual mileage allowance that you'll agree to beforehand.
If you exceed this allowance, there could be an extra charge, which is usually charged per mile.
---
Compass Vehicle Services have a high mileage as standard – 15000 miles per annum
---
End of Lease Options
You won't have the option to buy the vehicle, and you must return it at the end of the contract.
In some cases (subject to approval from the finance provider), you may be able to extend the vehicle contract.
---
---
Benefits of Personal Car Leasing
Flexible terms to meet your finance requirements and driving habits – with variable contract duration and mileage terms.
Monthly payment could be cheaper than with other finance agreements.
Compared to if you were buying the car, your monthly payments will be lower when based on a like for like contract term.
You don't need to worry about depreciation, since you give the car back at the end.
You get the freedom to change your car every few years getting the opportunity to drive a new car that you may not have been able to afford otherwise.
Fixed costs for the whole lease deal making budget planning easier.
Considerations for Personal Car leasing
You Never Own The Car
With PCH you are in possession of the vehicle for the length of the lease deal, but you never own it;  and you never have the option to purchase it (unlike PCP)
Annual Mileage Allowance
All PCH deals come with an annual mileage allowance. If you exceed your agreed mileage, an excess mileage charge will be payable.
Return the Car in Good Repair
Personal car leasing agreements require you to return the car in good repair and condition. Any damage over and above that stated in the Fair Wear and Tear Guidelines will be subject to additional charges. So you must make sure to keep your vehicle maintained to a good standard.  You should familiarise yourself with this at the beginning of your agreed lease to make yourself aware what is acceptable.
Car Insurance
Your lease vehicle must be insured with fully comprehensive car insurance.
Early termination can be expensive
You are tied into the contract for a fixed term just like a mobile contract.  Charges may apply if  you request to cancel the contract early or make changes to the contract.
---
Compass Vehicle Services Ltd offer:
nationwide car leasing – bad credit car finance – used car deals – personal leasing – business car leasing – best car lease deals – non-status car leasing
---
Back to all help and advice articles