Debt and Credit Advice
Administration Order – An Option For Paying Off Your Debt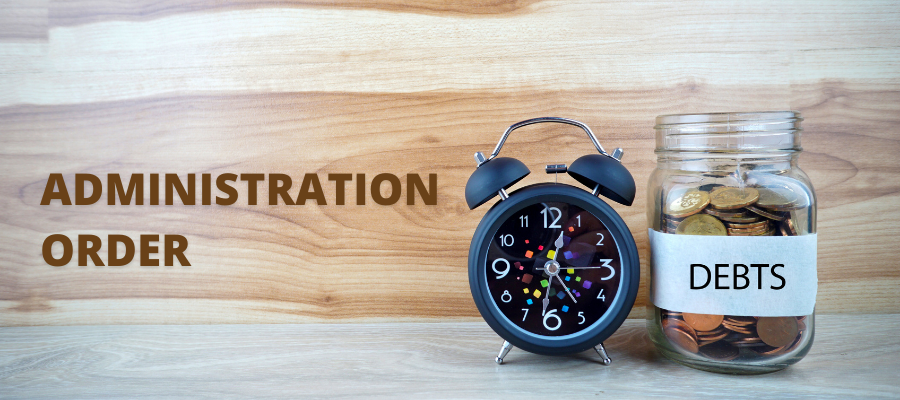 Published 16 May 2022
What Is An Administration Order?
An Administration Order (AO) is a debt solution option arranged by the County Court.  It is available to you  if you have at least one County Court Judgment or a High Court Judgment and cannot pay it in full.
AO's are formal, legally binding agreements between you and your creditors to repay your debts over a period of time. The debt can be no more than £5000.
Creditors listed on the administration order cannot take any further action against you without the court's permission.
Administration Orders are less common than they used to be, with many now opting for a Debt Relief Order instead.
This article will cover:
Eligibility For An Administration Order
How To Apply For An Administration Order
How an Administration Order Works
Administration Order FAQs
Eligibility For An Administration Order
In order to meet the criteria for an administration order you must:
owe less than £5,000, including any interest and charges
owe money to at least 2 creditors
prove you can afford regular repayments, for example by giving details of your income
have a County Court judgment or High Court judgment against you, which you cannot pay in full.
How To Apply For An Administration Order
Overview
In England and Wales  you submit your completed N92 court form listing your income, expenses and debts by taking it to the county court where you live.
Important: Do not sign the application form. You must do this at the court in front of a court officer.
You should include with the form:
proof of the debts. For example, letters from creditors stating the balance outstanding. If it is not possible to get all the letters at the time of the application, you should attach a covering letter saying full details will be available if needed.
proof of income and expenses
a copy of court judgments or orders included in the application.
In Northern Ireland you should contact the Enforcement of Judgments Office (EJO) for a copy of 'Form 11'.  This is the application form for an administration order. Fill in this form and return it to the EJO.
Forms and Guidance
You can download form N92 and the guidance notes from GOV.UK.
You should print the form and fill it in by hand.  Or, you can pick up a form at your local county court office.  You can find your local court on GOV.UK.
How An Administration Order Works
Once you have applied to the County Court for an Administration Order the court staff will look through the details you've provided.
The court decides:
how much of your debt you have to repay, for example all or just part of it
how much your monthly repayments will be
how long the arrangement lasts
You and your creditors will receive a notice of the proposed order.  It will state what debts are included in the administration order, how much you will repay each month and for how long.
You and your creditors then have 14 days to object to the proposed administration order.
Creditors may object:
to their inclusion in the administration order
to the amount they are owed
to the repayment offer
to the use of a composition order.
If you or any of the creditors object, there will be a hearing that you will have to attend.
If the Administration Order is agreed, all your debts are dealt with together and your creditors aren't allowed to get in touch with you without the court's permission.
The debt can't be paid off within a 'reasonable period'
If the court thinks the full amount of the debt can't be paid off within a 'reasonable period', the case will be referred to a district judge. The judge may either propose:
a full administration order to be paid over a longer period
a composition order – where you pay back part of what you owe and the rest of your debt is written off
a hearing. If a hearing is fixed, 14 days' notice of the date must be sent to you and your creditors.
Payments
You make one payment per month to the court and the court then distributes the money between your creditors. The payment is the amount you have left after paying for all your priority debts, like essential bills and living costs. The court may want to take your payments directly from your wages.
The court will include fees for each repayment, but this cannot be more than 10% of the total amount you owe. For example if you owe £5000 the total fee cannot be more than £500.
Administration Order FAQs
What debts can I include in an administration order?
All of your debts can and should be included in the order, but sometimes a Judge may decide to leave out some debts.
A creditor can object to being included in the order and ask the court to leave them out.  If this happens, the court will call a hearing to decide whether its fair to leave the debt in the order.
If a debt is left out, it still counts towards the £5,000 total.
How will an administration order affect my credit file?
An administration order will appear on your credit file for six years from the date of the order. It also appears on the public Register of Judgments for six years. During this time you'll find it much harder to take out any further credit.
What happens if my circumstances change during the administration order?
You can write to the court and ask to alter the payment or cancel the administration order. You may need to go to a hearing to arrange this.
How much does an administration order cost?
A court fee is applied each time you make a payment. This cannot be more than 10% of your debt.  So if your total debt is £5000 you cannot be charged more than £500 in court fees.
What should I do before I apply for an administration order?
There are certain things you should do to make it easier for you to fill in the application form. These include:
making sure you are clear about what debts you have and who your creditors are

completing a budget sheet.
What happens at the end of an administration order?
When the administration order ends, the court will change the record on the Register of Judgments, Orders and Fines to say the administration order has been paid off.
You can ask the court for a certificate of satisfaction which costs £15.
Back to all help and advice articles