News and Reviews
VW Crafter Van Review
If you're looking at a Van this year, and your options take into account the likes of a Ford Transit, or a Mercedes Sprinter, you might want to have a serious look at the Volkswagen Crafter. This is a sizeable upgrade from the Transporter, so if you require something bigger, and have a thing for VW, it's definitely worth putting on your list.  If you are looking for a van lease for your business but have been turned away by mainstream take a look at our business leasing with bad credit. 
From Mercedes to MANN
VW has changed its partnership to create these vans, it was once with Mercedes, however they have decided to go it alone, sort of. They have teamed up with MAN, to provide a near identical vehicle, besides the front end.
What's on offer with the new VW Crafter?
The key area where this Volkswagen panel van has extended its on-paper appeal is in the breadth of its range. The core panel van models offer three roof heights, and three load lengths but these are joined by 5-seater double cab models. This gives a total of 69 different configurations, but there are more options than just body style.
The Crafter is now available with front, rear or 4Motion four-wheel drive, giving an even broader array of choice to operators. The driving position has 4 seat back positions, and a good amount of seat base travel for even taller drivers to get comfortable before that seat back connects with the bulkhead. There's also lots of reach adjustment in the steering wheel.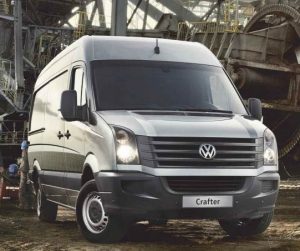 All of the Volkswagen Crafter's engines are 2.0-litre units from VW's family of commercial vehicles so they're designed for durability, low down pulling power and efficiency. Front wheel-drive manual models with the 138bhp engine return 38mpg on the combined cycle with CO2 emissions of 193g/km but top rivals can squeeze over the 40mpg barrier. Upgrade to the 174bhp unit and there isn't much of an economy penalty with combined cycle performance of 37mpg and 196g/km emissions claimed.
Safety options for both driver and load
Standard safety equipment on the Volkswagen Crafter runs to four airbags, ABS, ESP stability control, side wind assist and an Automatic Post-Collision Braking System. On top of that is a wide array of optional safety and driver assistance features, many of which are made possible by the new electromechanical steering system.
The VW Crafter has remote central locking as standard with the useful ability to lock the cab remotely, keeping the van's load bay open. There's also a button to lock the cargo area on the dash – perfect for those travelling in more risky areas.
Tech in the VW Crafter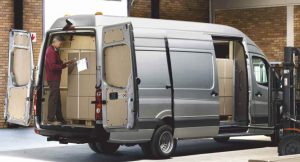 Infotainment and safety technology is carried over from the whole host of new features available, not just on the commercial vehicle range for VW, but also from the retail side too. So the Crafter now gets many of the advanced features found elsewhere in the VW catalogue. Standard safety kit on all models includes four airbags, ESP stability control, Automatic Post-Collision Braking System and side-wind assist, while Adaptive Cruise Control, Lane Assist and Front-Assist emergency braking are options.
VW Crafter looking good!
The look of the VW Crafter is also very much in line with Volkswagen family themes such as the angled headlights and familiar looking grill. Even the side panels carry the new distinctive look from the VW Group range.
---
Compass Vehicle Services Ltd offer:
nationwide car leasing – bad credit car finance – used car deals – personal leasing – business car leasing – best car lease deals – non-status car leasing
---
Back to all help and advice articles