News and Reviews
Renault Alaskan Review 2017
What's on offer with the Renault Alaskan
The full range of features are yet to be announced but there are confirmed interesting features such as a 5 inch touchscreen display, or a more integrated 7 inch display with satellite navigation system. There are also going to be expected features such as reversing cameras, voice activated controls and dual climate control – exactly the kind of tech you would expect from a pickup.
Renault are going to be opening the bidding with a 2.3 litre dCi engine, which will have at least two power options. Renault will be wanting to rival the most efficient engine on the market, provided by Nissan on the Navara, an engine achieving 44.1 mpg, with a choice of either 158 hp or 188 hp power choices.
Confirmed Design Concepts
Some things that have been confirmed by the concept designs include the option for a dual cab, blue and yellow detailing on the door mirrors, brake calipers, wheel rim centres and front tow hook. The pickup from Renault is also confirmed with 21-inch alloys, so you would expect that the boot space would match up to, and possibly even surpass the industry standard 3.5t benchmark. The 2.46 cubic metre load bed is one of the largest in its class, measuring up to 1,560mm wide and 1,788mm on the extended-cab and 1,578mm on the double-cab. Payload, however, is well below average at around 1,045kg on the double-cab (most in this segment offer over 1,100kg).
Renault Alaskan a 4 Wheel Drive you can count on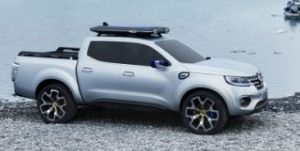 Renault is relying on Nissan's expertise for the four-wheel drive system, which has a proven track record in the likes of the Nissan NP300 Navara, Nissan Pathfinder and Nissan X-Trail.
The exact dimensions are yet to be released, but we imagine that the approach and departure angles and the ground clearance won't differ much from the NP300's figures of 31-degrees and 228mm respectively, and a very low wading depth of 450mm. The system will have three settings; 2Hi, 4Hi, 4Lo and locking centre-diff at the push of a button.
Who will it benefit
From the designs, it appears the Alaskan is ideal for road trips, adventure or sports use, with a big load bed that can comfortably accommodate mountain bikes, camping gear or surfboards, etc. There will also be availability of a range of outdoor accessories (load bed liners, covers, etc.)           
Renault and Hasselblad have worked together to underline the Alaskan Concept's ability to adapt to three different types of use: business and leisure use, and everyday motoring.  
Therefore, if you're looking for a vehicle you can use for work, rest and play, then the Renault Alaskan should certainly be a vehicle to try out.
---
Compass Vehicle Services Ltd offer:
nationwide car leasing – bad credit car finance – used car deals – personal leasing – business car leasing – best car lease deals – non-status car leasing
---
Back to all help and advice articles