News and Reviews
IVECO Daily E6 Van Review
If you are looking at upgrading your van, and are considering vans such as the Ford Transit or the Mercedes Sprinter, the Iveco Daily E6 should also be one on the list to check out.
What's on offer?
Starting strong, there is not another van on the market that can match the Iveco Daily's 7 tonne maximum gross weight and its 19.6m-cubed maximum load volume; this is in part down to the Daily's separate chassis and body combination, much like a heavy truck. Unlike its competitors that choose to provide a unibody configuration, separation allows for heavier loads to be carried.
---
Something unique about the Iveco Daily E6
The big Iveco, which is available as both a panel van and a chassis cab, doesn't share its design or underpinnings with any joint venture partners, which is a rarity these days. As with the Mercedes-Benz Sprinter, Daily comes from a heavy truck manufacturer, with all of the benefits of a truck dealer network, such as longer opening hours and roadside service.
The Daily isn't just about large load volumes or heavy payloads, as Iveco can sell you one in any of 8,000 different combinations of format and specification. For starters the line-up of five vehicle lengths and three roof heights produces a range of possible load volumes that starts from 7.3m-cubed in the 3.3-tonne variant so those needing less space are well catered for too.
---
Fuel economy
The latest Iveco Daily offers average fuel economy savings of 8% over its predecessor. This has been achieved partly through weight saving techniques in the body and suspension design and partly through the addition of new technology, engine revisions and aerodynamic improvements. The most economical Iveco Dailies are the 3.3 and 3.5t single rear-wheel models with the 2.3-litre engine. Fuel consumption of 34 mpg isn't the best in the large panel van class, where over 40mpg is now commonplace, but this improves to 35mpg with the addition of stop-start tech.
---
When size really does matter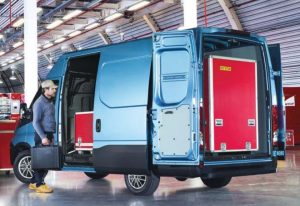 Gross vehicle weights from 3.3 to 7 tonnes and load volumes from 7.3m3 to 19.6m3 contribute towards a range of 8,000 different versions. The big seller is predicted to be the 10.8m3 van, for which Iveco claims class leadership in terms of space efficiency.
One traditional disadvantage of a ladder frame chassis design is a high loading height but Iveco has managed to lower the Daily's by 55mm, producing a load platform that's less of a step up than that of some rear-wheel-drive rivals. By specifying optional air suspension at the rear it's possible to further lower the van so its loading height is on a par with the best front-wheel-drive alternatives. The load bay is shaped with 1,320mm between the wheel arches and the capability of swallowing a standard Euro-pallet through its rear or sliding side doors.
While this Daily still doesn't have the sophistication in the cab of a Transit or Mercedes Sprinter, it has improved greatly with the latest generation and is an ideal contender for any business. The Daily provides a good working environment too, and can be an efficient mobile office with DAB radio.  The optional Daily Business Up app that can be installed on mobile devices, is certainly worth a consideration for any business owner.  
---
Compass Vehicle Services Ltd offer:
nationwide car leasing – bad credit car finance – used car deals – personal leasing – business car leasing – best car lease deals – non-status car leasing
---
Back to all help and advice articles